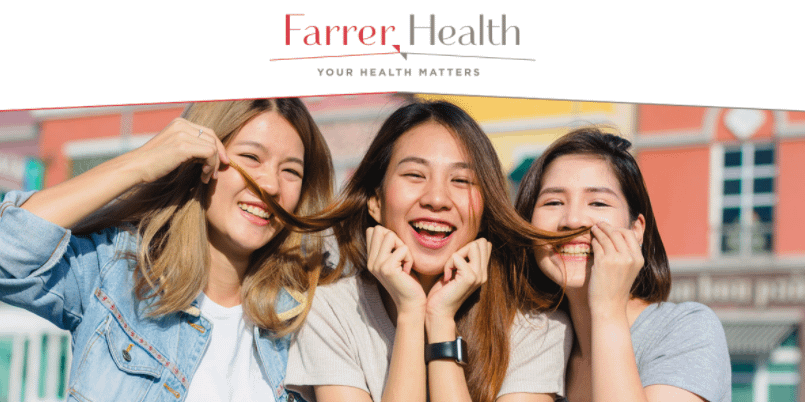 Cancer has always been one of the scariest words in the dictionary. For women, breast cancer probably takes the cake; but it is not all doom and gloom because it is treatable – especially when diagnosed and treated early.
It is still the number one cancer among Singaporean women but things are changing – fast. A 2015 report by the National Registry of Disease Office shows that 19% of breast cancers in Singapore occurred in women under 44. This means almost two in 10 young women is likely to get breast cancer.
According to Dr. Radhika Lakshmanan, Consultant Breast Surgeon from Farrer Park Hospital who sees patients ranging from 20 to 75 years old, almost 14% of her breast cancer patients are women under 40.
What would this mean for young women? Read on as Dr. Radhika shares some tips they should note in their fight to prevent (or treat) breast cancer. 
Do Not Undermine Your Age or Symptoms
Most cancers usually go undetected in its early stages and the same goes for breast cancer. If you have not been screened regularly and felt a lump or abnormal growth in your breast, do not ignore it. While we do not know if the growth is benign or malignant, it is important that you get it checked as soon as possible.
Bringing up a 25-year-old patient who consulted her at stage four breast cancer, Dr. Radhika said: "When I met her, it was already stage four. She apparently had the lump a few years ago but did not seek treatment."
"By the time I saw her, she can't even talk. She was in the ICU," Dr. Radhika revealed, "that was the first time I have to meet a (new) patient in the ICU. Patients who seek treatment early don't end up in the ICU. Almost everything was affected."
In late stage (metastatic) breast cancer, cancer cells often spread beyond the breast and nearby lymph nodes to other organs such as lungs, liver, bone and even the brain.
Consult the Right Doctor
When asked what advice she would give to women who suspect they have breast cancer, Dr. Radhika shared: "Consult the right doctor."
"I've seen so many patients who consulted a gynecologist because they think it is a gyne area (of specialty) but it is not. By the time some patients come around to consult me, I realized that they have already seen so many other doctors with no concrete treatment management plans," Dr. Radhika added.
Screening is Key
While women above 40 are encouraged to go for a mammogram once a year, it does not mean young women are excluded from this exercise. In fact, women in their reproductive years are strongly encouraged to perform their own Breast Self-examination monthly to check for lumps and growths in their breasts. Cancer cells can form anytime.
Another 27-year-old patient Dr. Radhika consulted was breastfeeding when she felt a lump in her breast. During her initial consultation with her first doctor, she was told that is is "normal and probably milk duct" but it started growing after that consultation. "When the patient saw me, the lump had grown up to 5cm and affected the lymph nodes. She was only 27 then," shared Dr. Radhika.
"Using the hand to check for lumps is a starting point but if we really want to confirm if the lump is cancerous, we have to do what is necessary (through screening) and not base it on assumptions," Dr. Radhika emphasized.
When asked if the patient recovered, Dr. Radhika nodded with a smile and commended the patient for her strength.
"She came back to see me for a follow-up and asked if she could have a second child. I advised her that usually we would wait at least two years after cancer treatment. In her case, it was advanced so it is safer to wait it out for at least five years. She waited it out till the seventh year and gave birth to her second child. She is officially cancer-free," Dr. Radhika revealed.
As compared to older women, breast cancer that is usually found in younger patients tend to be more aggressive. This means the chances of the cancer spreading to other parts of the body is higher in younger women. It is critical to get diagnosed early in order for the necessary treatments to be carried out effectively.
Be Bold and Courageous
As humans, it is only normal for one to be afraid of falling sick; not to mention being diagnosed with breast cancer. The silver lining is that there is still hope (lots of it) because according to Dr. Radhika, almost 80% of lumps she has seen are non-cancerous.
"Almost 80% of lumps are non-cancerous. 80% is very high. Only 20% are cancerous so the odds of it being cancerous is pretty low. If you discover any lumps, don't be afraid. Seek a specialist's help and get it sorted for a peace of mind," Dr. Radhika concluded.
If you require medical attention, visit our 24HR Emergency Clinic or call us at 6705 2999. To learn more, send us an enquiry here.
This Article Was Reviewed By:
Dr Radhika Lakshmanan is a consultant General Surgeon with more than 20 years of surgical experience. She is accredited by the Royal College of Surgeons Edinburgh and was appointed as an Honorary Clinical Fellow in Breast Surgery at the Nottingham Breast Institute in 2011. She served as the Clinical Lead in Surgery for Lee Kong Chian School of Medicine, Nanyang Technological University/Imperial College of London in 2012.