Since the COVID-19 outbreak in Wuhan, China, members of the public have been taking preventive measures hoping that it would guard them against the virus. Besides flocking to pharmacies to snag surgical or N95 masks, there might be some who are also considering vaccinations. In our latest article, we did a quick Q&A with Consultant Respiratory Physician Dr. Alvin Ng to find out how helpful these vaccines are in this worrying time.
How Effective are the Flu and Pneumococcal Vaccines Against COVID-19?
Dr. Ng: Unfortunately, the flu and pneumococcal vaccines are ineffective against COVID-19 as the former only acts against influenza and the latter against the pneumococcal bacteria. Getting the vaccine does not decrease the risk of contracting the coronavirus.
Nevertheless, it is recommended for the public to follow the adult immunization guidelines and have their required vaccination against influenza and pneumococcal disease as these common respiratory illnesses can have serious complications.
What is the Difference Between Influenza and COVID-19?
Dr. Ng: COVID-19 is a virus and there is currently no effective antiviral against it as yet and the only clinical management is supportive treatment. Influenza is also a virus, but unlike the coronavirus, there is a vaccine against influenza.
It is recommended for us to go for our annual influenza vaccination to prevent influenza infection. In order for antiviral agents against influenza such as Tamiflu and Xofluza to be effective, they have to be given within 48 hours of the influenza infection. Influenza can have serious complications and 291,000 to 646,000 people worldwide die from influenza each year.
What Can We Do for Now?
Dr. Ng: Prevention is key. While the health authorities are doing their best to screen and quarantine suspect cases, we can do our part by washing our hands regularly and observing personal hygiene. For those who show symptoms of respiratory illnesses such as coughing and sneezing, it would be advisable to seek medical attention.
If you require medical attention, visit our 24-HR Emergency Clinic or call us at 6705 2999. To learn more, send us an enquiry here.
This Article Was Reviewed By: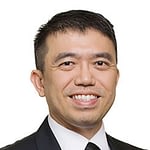 Dr. Alvin Ng Choon Yong is a Consultant Respiratory Physician and Intensivist with The Respiratory Practice. He was the President of the Society of Intensive Care Medicine as well as the Vice President of the Singapore Thoracic Society. He was also an executive committee member of the Chapter of Intensivist, Academy of Medicine Singapore. Dr. Ng is currently volunteers as the Deputy Chief Surgeon at St. John's Brigade Singapore Headquarters.