Undergoing chemotherapy can be difficult for some patients, especially when side effects kick in. These side effects are usually non-specific. For instance, some patients could experience fatigue, nausea or vomiting. However, there are also many other patients with a lower immune system who may go on to develop a fever; one of the top symptoms behind COVID-19, an infectious disease the world has been battling against since December 2019.
According to radiation oncologist Dr. Choo Bok Ai, the main side effects of chemotherapy indeed share some similarities with COVID-19 but it may not necessarily be the same. For patients undergoing chemotherapy, how then can they determine if their symptoms call for a concern?
A Symptom of COVID-19 or Side Effect of Chemotherapy?
The common symptoms or rather, the top symptoms of COVID-19 is fever, dry cough, flu and possibly fatigue.
"Symptoms for COVID-19 mainly present in the upper respiratory system. For chemotherapy, fever is usually a common side effect, which is quite similar to COVID-19, but it is not enough to determine whether a patient is infected with COVID-19," Dr. Choo shared.
"Patients with allergic reactions or a history of sinusitis can make them more prone to developing a runny nose. If these patients check these boxes then these 'flu-like symptoms' may not be a sign of COVID-19," Dr. Choo added.
When Should Patients Undergoing Chemotherapy Seek Medical Attention?
With additional safety measures such as screening and temperature checks in place before each chemotherapy session, patients' health are actually monitored more so than ever.
However, in the case where they experience persisting symptoms such as fever or flu for two or more days, Dr. Choo advises a doctor's visit to see if there are other sources of infection that needs to be managed or treated.
Emphasizing the importance of seeing a doctor when unwell, Dr. Choo said:
"In fact, anyone with or without chemotherapy should see a doctor if they display symptoms such as fever, cough or flu. Before making a visit, patients can ring a hotline and be triaged over the phone to see if a doctor's visit is necessary. If medical attention is required after the usual 9 to 5 p.m. operating hours of clinics, they can also seek out emergency clinics that are open round the clock."
Of course, for cancer patients who experience these worrying symptoms while undergoing chemotherapy, Dr. Choo highlighted that it is best to turn to their attending oncologist as they would be most familiar with their health status. Some chemotherapies can cause immunosuppression, suppressing the patient's ability to fight infections.
Should patients who have completed their chemotherapy sessions for some time experience the above mentioned symptoms, Dr. Choo advises them to consult a physician for a diagnosis.
This Article Was Reviewed By: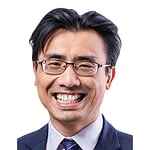 Dr. Choo Bok Ai is a Senior Radiation Oncologist with years of experience in caring for patients with cancer. He practices at Icon SOC clinic at Farrer Park Medical Centre. Dr. Choo graduated from the University of Aberdeen, UK in 1998 and went on to obtain his postgraduate internal medicine training qualification from the London Royal College of Physicians in 2002. He completed his clinical oncology specialist training in 2007 in Birmingham, UK, and is a Fellow of the UK Royal College of Radiologists. He joined the Academy of Medicine Singapore as a Fellow in 2013 and is currently the Vice Chairman of the Chapter of Radiation Oncology. Dr. Choo was the 2011 treasurer of the Singapore Society of Oncology and an Assistant Professor in Medicine at the Yong Loo Lin School of Medicine, National University of Singapore, from 2011-2018. His wide ranging practice includes advanced radiation therapy technologies, precision medicine and the treatment of breast, gynecological, head and neck, skin and sarcoma cancers.