With lock downs, quarantine and various circuit breaker regulations in place during the COVID-19 outbreak, many patients had to put off medical care. For women, this includes canceling of mammograms, Pap smears and more; which may bring about long-term health implications.
Major Impacts
When asked if COVID-19 can affect a woman's health in any way, Dr. Alex Ooi, a Senior Obstetrics and Gynecology Consultant who sees a pool of both local and international patients,said there is no conclusive data to back this claim yet but delayed screenings can be a worrying concern.
Common silent killers women face such as heart diseases, ovarian cancer and cervical cancer usually present with almost no symptoms in its early stages. Health screenings allow one to detect abnormalities early on and undoubtedly plays a critical role in any patient's treatment plan.
The COVID-19 pandemic and economic instability has probably led some families to have delayed family plans. While it is perfectly fine, Dr. Ooi would like to remind women not to miss their golden reproductive years.
"After all, the older a woman gets, the higher the chances of her egg being abnormal," explained Dr. Ooi.
Women who are not ready to start a family yet can also choose to freeze their eggs as a way to preserve "younger eggs" until they are ready to conceive.
Should Pregnant Women Be Concerned?
The COVID-19 pandemic can be a difficult time for pregnant women, especially first-time mothers-to-be. Coupled with the restrictions of social gatherings and closed border, pregnant women with family members abroad might find it challenging as well with the lack of support system.
While there is no clear data that shows COVID-19 can affect the health of expectant mothers, Dr. Ooi strongly advises women to pay additional attention to their health.
"During pregnancy, a woman's immune system changes and they can drop at times as it adjusts to accept a conceptus with half genetic material from her partner," added Dr. Ooi.
In times of a pandemic as such where the transmission of viruses are high, expectant mothers are encouraged more than ever to steer clear of crowds and wear a mask diligently.
Another aspect expectant mothers should look out for is the heart. Risk of heart problems such as congestive heart failure can increase during a pregnancy as blood volume goes up by at least 30-40%. Patients with congenital heart defects need to monitor their condition closely as the baby may have a greater risk of developing a heart defect too. It is important for expectant mothers to still turn up for their scheduled prenatal visits even during COVID-19. This allows gynecologists to do the needful. 
For those who are planning to conceive, it is also worthwhile to see a gynecologist or fertility specialist to check if their body is ready to take on the next chapter.
If you require medical attention, visit our 24 HR Emergency Clinic or call us at 6705 2999. To learn more, send us an enquiry here.
This Article Was Reviewed By: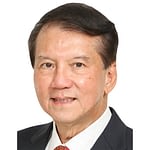 Dr. Alex KH Ooi is an approachable, senior Obstetrician & Gynecologist. He completed his specialty training at the KK Hospital for Women and Children, with time at St. Mary's Hospital, London. He has been in private practice for over 30 years.