Irritable Bowel Syndrome (IBS) is a disorder affecting one in five Singaporean that has been proven to cause disruption to patients' lives.
We speak to Dr. Reuben Wong, Associate Professor and Gastroenterologist who practices at gutCARE, Farrer Park Hospital, to find out more about IBS and dispel some common myths surrounding the disorder.
What is IBS and should we be concerned about it?
IBS patients present symptoms like abdominal pain, bloating, constipation and bowel urgency. According to Dr. Wong, it is an important disorder for two reasons. First, it causes significant symptoms and results in disruption to patients' lives and the need for medical attention. Second, it is common, affecting around 7-15% of the general population. According to the IBS Support Group, there is a higher prevalence of IBS in Singapore in the younger population1. 
A consolation point about IBS is that it does not degenerate into bowel cancer or a terminal illness. "However, too many people suffer needlessly from IBS, when it is actually treatable," said Dr. Wong.
It varies from one person to the next. While some people only experience mild symptoms, it can be quite disruptive for others.
How will IBS affect patients and their lives?
While family and personal relationships can have an effect on how well patients cope with an illness, the illness itself can affect and change the dynamics of a relationship. In the case of IBS, it is the same and it influences how well patients will feel as they live their lives with IBS. 
A unique aspect of IBS is that it can cause partner burden. The phenomenon is commonly associated with caregivers or family of cancer and dementia patients, but rarely in gastrointestinal diseases. 
"IBS causes symptoms such as abdominal pain, bowel movement disturbances and affects the quality of life. As such, patients have increased healthcare seeking behaviour, have limitations on their work performance and disruption to their social lives," Dr. Wong said. 
"It then spilled over to their partners and caregivers2, who bore the brunt of similar lifestyle restrictions and the emotional suffer that came with living and caring for someone affected by IBS." 
The study also found that the partners of IBS patients suffered significantly more burden than partners of healthy people.
"We found that there was resentment against the patients. The disorder also affected their sexual activities, creating significant limitations in lifestyle. We were also able to prove that the more severe the patient's IBS, the greater the degree of burden measured," Dr. Wong added.
Are women more prone to contracting IBS?
IBS is indeed more common in women in most societies, according to Dr. Wong. However, there are some emerging studies that show the occurrence in men are not far behind.
Does stress cause IBS?
"IBS is not solely due to stress, but stress is a major contributory factor," said Dr. Wong. 
As IBS symptoms are chronic and bothersome, they may have a profound impact on quality of life; causing anxiety and stress and in some cases, depression1. 
Is IBS caused by gastric or stomach ulcers?
IBS is a syndrome. An endoscopy or scan may be ordered by your doctor to exclude any structural abnormality, but the diagnosis is ultimately based on symptom criteria. There are many factors that could cause IBS3.
While there is no one cause for IBS, it can be treated or avoided with a change in eating habits and lifestyle. However, do note that the colon is partly controlled by the nervous system so exercising regularly to manage or relieve stress can help as well.
If you require medical attention, visit our 24 HR Emergency Clinic or call us at 6705 2999. To learn more, send us an enquiry here.
This Article Was Reviewed By: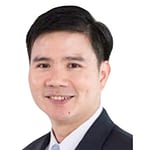 Dr. Reuben Wong is a Gastroenterologist with sub-specialty interest in reflux and swallowing disorders, Irritable Bowel Syndrome (IBS), gut microbiota, chronic constipation and diarrhea, as well as colon cancer screening. He also serves as Associate Professor (Adjunct) at NUS and Visiting Consultant at NUH.