In February this year, Singapore confirmed the first patient infected with both coronavirus disease 2019 (COVID-19) and dengue fever. A month later, two more coinfection cases were reported. With the rise of dengue fever cases against the backdrop of COVID-19 pandemic, should we be concerned?
Learn more as we speak to Dr. Nicholas Chew our Infectious Diseases Specialist to understand more about the coinfections of dengue fever and COVID-19.
 
Does Dengue Fever Pose an Additional Risk to COVID-19 Patients?
Dengue fever and COVID-19 are two separate infections that are not directly linked to each other. However, it can increase the burden on a patient's health as their immunity weakens.
"From a medical point of view, if a patient has already been infected with COVID-19, a second infection – be it dengue fever or anything else – is going to increase the burden on their health," explained Dr. Chew.
There is no proven medical correlation to date but according to Dr. Chew, the spike in dengue cases show that there might perhaps be an indirect link.
"A lot of our dormitory workers have been on a lockdown since the COVID-19 outbreak. As a result of that, the regular cleaning of shrubs and trees may have been postponed, leading to an accumulation of stagnant water. This could be one of the reasons why we are seeing a spike in dengue cases," added Dr. Chew.
 
COVID-19 vs Dengue Fever: Similarities and Differences
While COVID-19 and dengue fever are both viral infections that present with fever, Dr. Chew shares that there are several features from a clinical perspective that can help distinguish them.
Touching on the differences between the two, Dr. Chew said: "Most patients infected with COVID-19 would display an upper respiratory tract infection with symptoms such as sore throat, cough or runny nose. Dengue fever is different. There would be other symptoms such as fever, joint aches or pains. Sometimes, patients may also develop a rash."
"When a patient does come in with non-specific symptom such as fever, most doctors in Singapore would be quite wary because these are two common infections active at the moment and a thorough check-up is required," added Dr. Chew.
 
Advice for Patients with Coinfections of COVID-19 and Dengue Fever
According to Dr. Chew, both infections are independent of each other and will have to be assessed and managed separately. The severity of COVID-19 varies from one patient to another but the vast majority of infected patients remain relatively well with their symptoms improving within a week.
Bringing up his experience from caring for COVID-19 patients in Farrer Park Hospital, Dr. Chew shared: "Apart from symptomatic treatments for sore throat, fever and pain control, most patients fortunately recover well within a week. However, a small proportion of patients do become unwell and may need oxygen support. An even smaller proportion of these patients may end up in the ICU or on a ventilator. These patients would have to be assessed and treated accordingly."
"On the other hand, the vast majority of patients with dengue fever are usually relatively well and can be managed at home. However, there are some who may develop a bleeding tendency or risk. These patients would have to be hospitalized for further treatment. Essentially, both viral infections are separate so treatments would have to be administered and managed accordingly," concluded Dr. Chew.
This Article Was Reviewed By: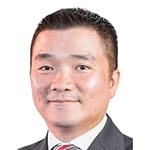 Dr. Nicholas Chew Sern Yan is an Infectious Diseases Specialist who joined Farrer Park Hospital in 2018. Prior to private practice, Dr. Chew was Senior Consultant at National University Hospital (NUH)'s Department of Infectious Diseases. He headed the NUH Transplant Infectious Diseases Program and was a key member of the National University Centre for Organ Transplantation (NUCOT). Dr. Chew specialty interests include HIV medicine, bone and spine infections, faecal microbiome transplantation (FMT), diabetic foot infections and genitourinary medicine.